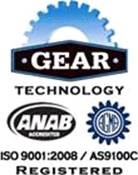 Tom Marino | President | Gear Technology
My company has experienced record sales growth this year in excess of 50%. I was struggling with managing this growth in such a short period of time. I decided to have Matt Mondek come out and give me a full business review assessment of my company with the goal of coming up with a plan that would help me plan for the future growth of my company.
Matt came out and spent 3 days accessing my company. I gave Matt complete access to all aspects of my organization. Matt interviewed all of my department heads as well as most of the hourly employees. I gave Matt complete access to my financials, my HR Policies and Procedures, my MRP System as well as my Quality Control Systems.
A week later I got back a detailed analysis of my company from Matt outlining its strengths and weaknesses. One of the key suggestions that come out of Matt's assessment was the need for a strong Chief Financial Office at my company.  I agreed and had Matt write out  the job description and place the ad in multiple social media job sites.  I had Matt review over 200 worldwide responses for me. Matt filtered resumes for me that had promise and conducted phone interviews with these candidates. Matt worked the list of likely candidates down to a handful for me which I think interviewed on site jointly with Matt.  The end result was the hiring of a strong and dynamic CFO that will help propel my company to the next level.
I cannot stress enough the level of professionalism and business acumen that Matt Mondek brings to the table. With Matt's help, I know my company is positioned to handle the double digit growth I see headed my way in the near future.  Matt is a key element in my management team who has proven to be an invaluable resource for me. I would recommend Matt Mondek without reservation to anyone that is in need of business consulting services on any level.